QPTS – Quality People and Training Solutions are recruitment specialists. They take pride in providing recruitment services and are a nationally recognised RTO (Registered Training Organisation).
This year they've pledged to plant sixty trees for each of their employees (18), plus 15 trees for every new placement at their recruitment agency.
The team at QPTS recruit, deploy, manage, and maintain a mobile international workforce, whilst providing the people, knowledge, and expertise to help their valued customers grow.
QPTS has gone into partnership with Fifteen Trees to help reduce our carbon footprint. QPTS has purchased 60 trees for every employee and is also pledging to purchase trees for every recruitment placement.

QPTS is dedicated in helping take action on climate change, and we are proud that we can announce that we are now Carbon Neutral!

Ebony Linsley | Manager | QPTS
Site A | 500 trees | Esperance, WA
The trees were planted by Dalyup River Catchment Group members Dorothy and Richard Henderson. The Dalyup River runs into the Lake Gore RAMSAR listed wetlands of international significance, a place of particular importance to migratory waterbirds. The types of trees planted were 4 different species of melaleuca and 2 different species of acacia or wattle.
The trees have been planted in an area devoid of native vegetation (until now) as early colonial land practise was to remove all trees and shrubs to make room for pastures and stock. In fact, since 1895, 90% of native plants have been removed from along the Dalyup River catchment. This new planting project by the Hendersons will serve as a wildlife corridor between the river and adjoining bushland. The variety of wildlife coming back into the district includes; kangaroos, bandicoots, nightjars, red-capped parrots, galahs, crested pigeons, magpies, butcher birds, blue-tongue lizards, dugites, tiger snakes and the iconic Black Cockatoo.
By helping us to re-vegetate this land, you have helped us bring life back to the land. It would not have been possible for us to do the rehabilitation work that we have done without the help of others. Bringing trees back into this landscape has brought it, quite literally, back to life. The most obvious change has been the variety of birds that now come into the district. The trees we plant provide habitat for other creatures, while also serving as wind breaks helping to prevent erosion, and soaking up excess moisture in areas prone to water-logging and salinity.

Dorothy Henderson | Member | Dalyup River Catchment Group
Site B | 125 trees | Mulgoa, NSW
Dominant canopy species in the area consist of Grey Gums, Forest Red Gums, Ironbarks and Wattles. This new planting was designed to increase cover and supplement the area with other tree species that are part of the ecological communities listed.
Some of the species planted at this site include; Tick Bush, White feather honey myrtle, Gossamer Wattle, Hickory Wattle, Rough-barked apple, Broad-leafed apple, White Stringy Bark, Narrow-leaf ironbark, Silky Hakea, Willow-leafed Hakea, Slender Tea-tree, Yellow Tea-tree and Red-gum.
Thank you for providing our trees, which are now thriving as part of our long-term work to regenerate and conserve the threatened ecological communities on this species property in Mulgoa.

Katherine Clare | Coordinator | Hawkesbury-Nepean Landcare Network
The trees are helping with the regeneration of ecological communities under threat, in particular the Shale Sandstone Transition Forest in the Sydney Basin Bioregion which is listed as 'critically endangered'.
Site C | 300 trees | Perth, WA
These trees were planted at the Kaarakin Black Cockatoo Conservation Centre in Perth, WA. Two team members (Hayley Baird and Hayley Clark) from the Perth branch attended and spent the morning planting trees and learning a little more about the Centre.
Kaarakin is situated on a 41 acre bushland site, that was a former wildlife park. The site was once extremely degraded. The Kaarakin team have spent many years revegetating it back towards its former biodiversity rich state. Kaarakin are focusing on replanting to create wildlife corridors for small species of mammals, reptiles and birds to safely travel through and back into the regional park adjacent (Banyowla Regional Park).
Kaarakin rescue wild black cockatoos in distress (due to injury from cars, cats, ravens and other birds) and release them back into the wild once they are healthy and well.
We are already seeing the site provide food for all three of our endemic and threatened black cockatoos as well as the return of several small bird species such as Red Capped and Scarlet Robins, Western Spinebills and Yellow Rumped Thornbills.

We have also seen several reptiles including King Skinks, Shingleback Lizards and even the odd Goulds Monitor. We have seen increased activity of  the Southern Brown Bandicoot and Brush Tailed Possums. We hope to one day encourage back the endangered Western Quoll.

Thank you to Hayley and Hayley from QPTS Perth for coming to visit the centre and help out with some planting.

Sam Clarke /Education Officer / Kaarakin Black Cockatoo Conservation Centre
We hope that in the long term, the site will allow for safe travel for all species while also providing food, shelter and habitat for species wishing to permanently live at Kaarakin. The aim is to restore the bushland back to its former glory, so much so that it will be hard to tell it was ever cleared in the first place! Now that would be an accomplishment!
Site D | 500 trees | Daintree, QLD
Located south of the Daintree River, a new project on Bells Road has begun thanks to the generous sponsorship of QPTS. The resulting new forest will be a paperbark-dominated emergent layer with a rainforest understory, comprising around 77 species of locally grown trees indigenous to the area. The planting footprint runs across four regional ecosystems, three of which are classified as endangered.
The new forest will form an outreach corridor from existing mangroves. This planting will create valuable and much-needed habitat and food resource for a multitude of animals. Research on the Queensland Government wildnet species list, reveals that up to 13 species (endangered, vulnerable and near-threatened) are currently present in the area, including Australian Lacelid frogs, Macleay's Fig-parrots, White-throated Needletails and Spectacled flying-foxes.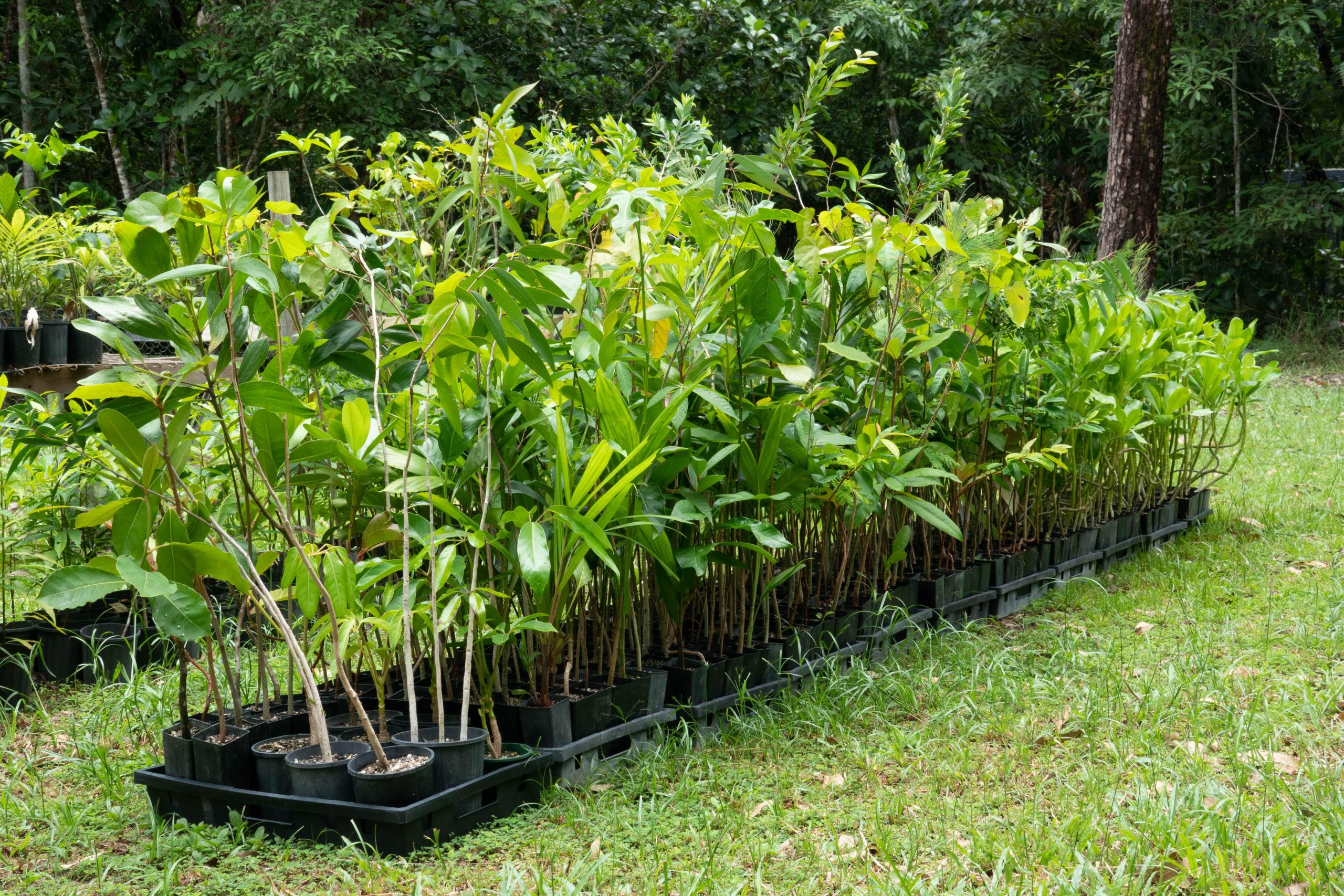 This project is being managed by Daintree Life, a small conservation group situated in the Daintree Forest of far north Queensland. This group have been planting trees in the Daintree since 2018. They firmly believe in restoring and expanding natural habitat for wildlife. Founders, Connie and Mike Pinson, work closely with Queensland Parks and Wildlife, removing rank grasses and weeds in the National Park to restore food resources and ecological function. Funding from QPTS has enabled them to continue with their revegetation work.
---
QPTS understand that to have an effective workplace, relationships are at the core of everything. Happy staff, productive workflow. Thank you QPTS, for your dedication to the planet and people.
If you are interested in how your business and Fifteen Trees could work together, contact Colleen at <[email protected]>. In the meantime, check out our company page.
Writer – Lou Ridsdale
Lou is a big fan of words and has been our Comms Manager since 2019.
She is a green thumb, Earth Lover, big-hearted nature freak, plus a savvy media and horticulture expert, who passionately believe that everyone can lead a more nourishing and sustainable life. Her passion for education + communication being the most empowering tool for change is reflected in her setting up her side hustle Hey Hoe Let's Grow. She also founded Food Is Free Inc., a unique grassroots food security platform specialising in food security education. She fell in love with trees after reading The Magic Faraway Tree as a child. You can find Lou here