Margaret Mead had it right when she wrote about the power of the collective! And here at Fifteen Trees we have seen the power of the collective with this particular planting.
Over the course of the year, six businesses/organisations collectively purchased 99 trees for a beautiful site at Axe Creek, Central Victoria, (Dja Dja Wurrung land).
The Red Light Lab was created in order to help customers access high-quality Red Light & LED devices without breaking the bank. Red Light therapy has emerged as a pillar in holistic treatments, ensuring customers have the ability to address their health and wellness concerns.
The products are designed with science and wellness in mind, in order to enhance customers physiological concerns. The technology is grounded in scientific research that suggests exposure to Red light & LED wavelengths can trigger a range of benefits, like improved skin health, enhanced muscle recovery, reduced inflammation and even mood elevation. (10 trees)
We decided as part of our commitment to help people heal and be their best selves, we wanted to do something to show our commitment to other initiatives. There is nothing better than giving back to the environment, a place that needs a lot of love and care to flourish – just like our customers. We decided to encourage our customers to also give back, by adding a tree planting option at our checkout.

Zachery Lazuras | Owner | Red Light Lab
The Visualise Your Thesis 2023 Programme saw 23 entrants from around the world, all presenting their graduate research projects in engaging 60 second videos. Congratulations to everyone who reached the international round of Visualise Your Thesis 2023. (15 trees). 
As a thank you to the judges, we have organised the planting of 15 native trees on behalf of: 

Dr. David Phipps – AVP Research Strategy and Impact, York University & Director, Research Impact Canada

 

Dr. Siouxsie Wiles – Associate Professor, University of Auckland

 

Eleanor Colla | Visualise Your Thesis Team | University of Melbourne
Sasha at Hello Tomato Studio periodically purchases trees to help reduce the carbon footprint of her creative studio. Sasha is a Melbourne based artist specialising in hand painted murals and whimsical illustrations. (15 trees)
Faucet Strommen are giving their customers the option to have a native tree planted when they purchase premium Australian made tap-wear. (15 trees)
Trees are beautiful. They are an essential component of life on earth, providing protection and food for birds and small animals and oxygen for life. Every Faucet Strommen owner can now be part of our exciting Plant a Tree program! When you register your products for warranty, simply tick the box to request a tree to be planted on your behalf and we promise to make it happen.

Ketsia Sellars | Marketing | Faucet Australia
Alice & Ivy Property Styling is an interior design Hub specialising in bespoke Interior styling & home staging. Property staging is a fantastic way to positively contribute to the environmental impact as goods are utilised time and time again to prepare homes for sale. The flip side, sadly our real estate partners still very much rely on letterbox drops, large scale signage and handouts to prospective buyers. To combat this, Alice & Ivy donate 1 tree for every home staged. To increase their 'green cred', the company also avoids using single use materials to transport good and aims to work with Australian producers and businesses to source products. (25 trees)
We identified across our business, the need to reduce our carbon footprint, and whilst most of our business is digital, we still wanted to do our part as goods are purchased and sent to clients. We can't always avoid plastic packaging. We love working with Fifteen Trees and will continue to do so into the future.

Ally | Owner | Alice & Ivy Property Styling
The Acacia Tree in Brighton, VIC specialises in handmade and high quality furniture such as beds, dining room tables, entertainment units and chairs. With every furniture item sold, we plant one native tree. (19 trees).
All of the timber used for our furniture comes from sustainably managed forests. However, we don't believe that it's enough to just leave things as we found them, we want to leave the world a better place.

Luke | Owner | The Acacia Tree
---
The trees were planted at Axe Creek on property Dja Dja Wurrung land, known as djandak. The site has a Trust for Nature covenant on it, to preserve it in perpetuity. The Campaspe River and Mosquito Creek run through the site.
Due to long-term grazing, the understory had been destroyed with very little native grass, native shrubs or flowers remaining. The beautiful big old eucalypts are intact though. Close to the river are the iconic River Red Gums and higher up, away from the river, it is mainly Grey Box, many of which are large and very old with numerous hollows. Three of these trees are registered scar trees.
The project, in simple terms, has been to remove the sheep, progressively eradicate the weeds and introduced grasses and plant indigenous grasses and shrubs in their place. Kangaroo grass, wallaby grass, wattle varieties, Austral indigo, various native daisies, hop bush, hakea and weeping she-oaks are some of the species that have been planted at this site.
The property is blessed with a wide range of wildlife, such as; kangaroos, wallabies, wombats, echidnas, platypus, possums, a wonderful array of birds and reptiles. Some of the more interesting examples are the Tawney Frogmouth, Powerful owl, Azure Kingfisher, Spotted Pardalote, Tree Creeper and Robin Redbreast.
In early September, we began planting the trees that we were supplied to us from sponsors of Fifteen Trees. Thank you to everyone who contributed to this wonderful assistance we have received.

Bill & Jo Morrissey | Members | Axe Creek Landcare
Thank you to everyone for enabling the planting of these native trees in Central Victoria, the home of the River Red Gums and the iconic Tawny Frogmouth.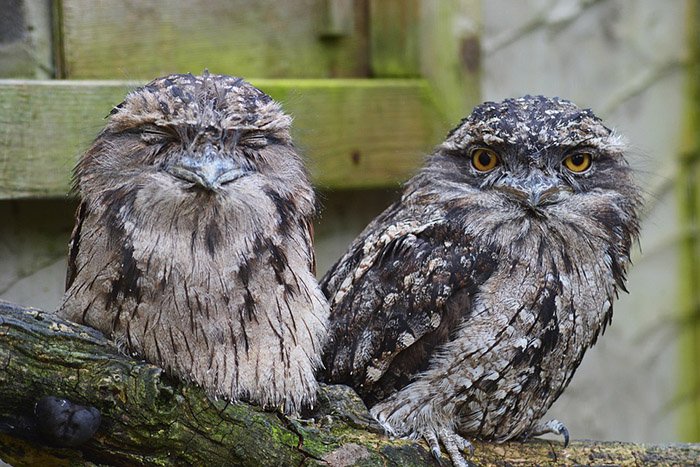 ---
If you would like to know more about sponsoring community tree planting projects and how we can assist you in becoming a more sustainable business, please contact Colleen at <[email protected]>.
Writer: Colleen B. Filippa
With a background in Environmental Science, Colleen is the Founding Director of Fifteen Trees. In 2009, after 20 years in primary, secondary and tertiary education institutions, Colleen left the classroom to start the company. Fifteen Trees is a social enterprise assisting individuals and companies to reduce their carbon footprint by supporting community groups such as Landcare, schools and environmental networks.