The Western Program Alliance (WPA) is a project team with a particularly specialised skillset – it is very good at removing level crossings. The WPA comprises McConnell Dowell, Arup and Mott Macdonald, Metro Trains Melbourne, VLine and the Level Crossing Removal Project. In amongst all their work is a strong vein of environmental action, from sourcing sustainable materials, to exploring more Earth-friendly alternatives, to setting up recycling and other ethical waste management systems.
WPA acknowledges that when it comes to environmental initiatives, its people are its strength. It has recently partnered with us to plant 15 trees for each hard-working staff member identified as a Sustainability Champion.
We love the idea of planting trees as staff rewards. We're proud to have planted 330 trees for WPA and would like to join in applauding the efforts of the 22 staff involved and acknowledged below.
Kat Dodge for arranging Christmas gifts for everyone at WPA via a social enterprise that included an Aboriginal artwork card. Kat helped us generate focus on increasing our use of Aboriginal company SupplyAus.
Brenton Davey from the Indigenous Culture Prestart board at the Cranbourne Line Upgrae, for taking on advice and exceeding expectations for drive and commitment.
Daisy Lippiatt whose endless enthusiasm and energy has lead us to secure critical ISCA submission credits especially on waste.
Chris Burdeu for championing continuous improvement and creating better systems of sharing and maintaining data for ISCA submissions.
Nick Birnie for setting up water reuse ponds and ensuring the use and tracking of more than 30% of non-potable water.
Simon Williams who coordinated site works for temporary solar installations and for adopting low cement concrete.
Sean McCarthy for his ongoing commitment in sharing materials between projects to maximise recycled material use and to reduce waste.
Chris Zagami whose solar shed trial lead to a roll out at Old Geelong Road.
Georgina Day for driving sustainable and social outcomes through Early Contractor Engagement.
Dan Tinetti for ongoing persistence to achieve social procurement and sustainability outcomes.
Lachlan Frowd whose persistence contributed to Wyndham Vale Stabling Project achieving Greenstar outcomes, and then progressed the Old Geelong Road solar shade structure.
Rob Crumpen for setting a great example of sustainable construction which lead to positive environmental and social outcomes plus wider team awareness and support.
Caitie Dunlap for arranging the retrofit of the Cranbourne Line offices to reduce energy and for considering sustainability in office management procurement decisions.
Steve Jopson – Cranbourne Upgrade Plant Team, for thinking sustainability for the swap of diesel generators to biodiesel, purchase of solar light towers, trial of task solar lighting tower and investigating the solar site sheds.
Ali Saleh– Cranbourne Upgrade Civils Team, for reusing recycled ballast, investigating use of mesh concrete, use of green pipe and retaining a temporary swale for permanent design.
Matt Kenfield– Great support and leadership with the delivery of the High recycled content concrete for Cherry Street Shared Use Path
Dylan Burke– Initiative taken by proposing and engaging with Green Power Solutions, saving over 5T of carbon emissions by using B20 diesel, between December 2020 and April 2021.
WPA trees were planted at 3 Victorian site for these 22 fabulous eco-warriors. It is worthwhile noting that WPA also purchased the tree guards for these projects.
Site A: Toolern Vale (75 trees)
Working with The Australian Dingo Foundation, a wildlife refuge at Toolern Vale, VIC, we planted 75 trees at this site. This group is revegetating the native flora at their wildlife reserve with a wide array of plant species that were originally on the site. The native vegetation will help minimise erosion as well as contribute to plant conservation.
The Foundation aims to preserve and conserve the gene pool of the original dingo and educate the public on the species ecological function in Australian ecosystems.
Site B: East Gippsland (120 trees)
The trees were planted by Tambo Bluff Landcare Coastcare at the site of an old farm that badly needed some revegetation work.
What was once a 100 year old farm is now part of the subdivision of Tambo Bluff, East Gippsland and includes approximately 40 hectares of public open space. The vision of past and present residents (since 1993) is for an ecologically sustainable, integrated landscape of residential housing and indigenous bushland, including remnant rain forest gullies, fresh water lagoons, and Lake King foreshore habitats. Thank you to the supporters of Fifteen Trees for your generous assistance with this project that is dear to our hearts.

Alan Maloney | Secretary | Tambo Bluff Landcare Coastcare
Site C. Ballarat (135 trees)
The remaining trees  were planted at Blamganie Meredith Landcare Group headed by Nick McKinley. The trees were integrated into ongoing projects where numerous landholders are protecting and enhancing remnant vegetation. To protect the seedlings, fencing was erected to exclude stock. For further protection, all trees have been planted with tree guards (plastic sleeves and stakes) to discourage rabbits and to create a perfect micro-climate for the new seedlings.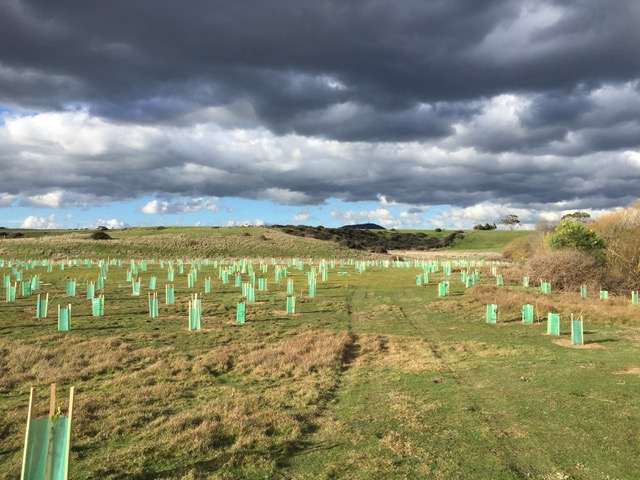 Huge thank you to the entire team at WPA for sponsoring these particular trees for community tree planting projects in Victoria. If you would like to know how your company can also sponsor, please contact Bianca at <[email protected]>.
Writer – Sarah Hart.
Sarah is an artist whose passions include the stories and experiences of women and narrative driven creative work. Her aim is to delight, to reveal glimpses of everyday beauty, and to celebrate flights of the ordinary. Sarah works across a range of media, with an abiding interest in pen and ink, mixed media and the human form. You can find Sarah here.